Welcome to the Merry Menage hop! I have some amazing news to share with you guys.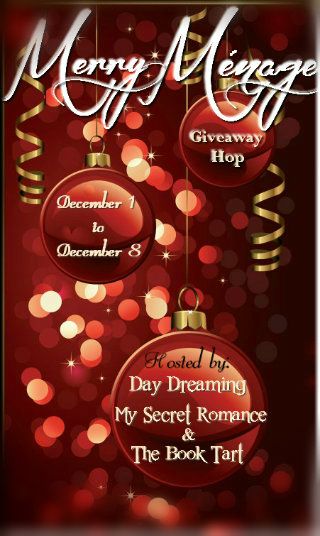 My small town contemporary romance was acquired by Carina Press! The hero is a Navy SEAL back in town, the heroine is a local diner owner who gets stranded at his farm during a storm. It's sweet and fun and pretty much the opposite of Giving It Up in every way… except that it's still sexy as hell 😉
In celebration, I'm giving away an upcoming Carina Press release that I am really looking forward to reading myself. Red Hot Holiday is an anthology of erotic romance stories, featuring Leah Braemel, K.A. Mitchell, and one of my favorite erotic romance authors, Anne Calhoun. Here's the blurb:
I'll be home for Christmas…to fulfill all your dreams.
This holiday, a Mountie is determined to get her man. A widow finds a fireman who ignites her passions again. And two men unsure of their commitment discover a happily ever after—and a blindfold—under their tree. No matter your desires, this collection of three shorts is bound to treat you to all the joys of the season.
Edited by Angela James, this anthology includes:
I Need You for Christmas by Leah Braemel
Breath on Embers by Annie Calhoun
Wish List by K.A. Mitchell
99,000 words
To enter to win, leave a comment telling me what your favorite holiday tradition is….
I'll start. We have a four year old and a train that goes under the Christmas tree. Yep, no presents there – those have been relegated to the fireplace (which we don't use much here in Texas anyway). So the kiddo runs the train, and then again, and again and again! I have some lovely memories of getting exasperated about that train whistle and hope to repeat (and repeat and repeat) again this year.
What holiday tradition are you most looking forward to this year?
Also, be sure to check out the other sites on the Merry Menage Hop: