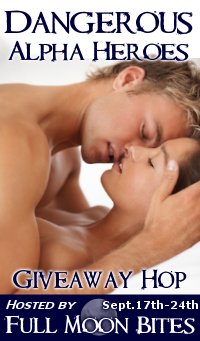 It's time for another giveaway!
I knew I had to join this hop when I read the name, because Colin, the hero of Giving It Up, sure fits the bill. He's dangerous and alpha and a whole lot sexy.
I'm not only giving away my book. No one writes more alpha or dangerous heroes than Anne Stuart, so I'm also giving away a copy of Black Ice!
Check out the blurbs for each book below, then use the Rafflecopter to enter to win them both!
Black Ice by Anne Stuart
Living paycheck to paycheck in Paris, American book translator Chloe Underwood would give anything for some excitement and passion–even a little danger. So when she's offered a lucrative weekend gig translating at a business conference in a remote chateau, she jumps at the chance to shake things up.
Then by chance Chloe discovers her employers are anything but the entrepreneurs they appear, and suddenly she knows far too much. Her clients are illegal arms dealers, and one of them is ordered to kill her. But instead, Bastien Toussaint drags Chloe away, and the next thing she knows she's on the run with the most terrifying and seductive man she's ever met. What were his motives–and would she live long enough to find out?
Giving It Up by Amber Lin
Allie prowls the club for a man who will use her hard and then ditch her. Hey, it's not rape if she wants it. Instead she finds Colin, who looks tough but treats her tenderly, despite her protests.
He tempts her, but kindness and a few mindblowing orgasms aren't enough to put her back together again. Allie has no hope for a real relationship. Two years ago her best friend betrayed her in the worst possible way – she'd be stupid to trust a man again. Besides, she has her daughter to think of, the only good thing to have come from that dark night.
But when her rapist returns, threatening her sanity and custody of her daughter, Allie turns to Colin. Under his protection and patient touch, Allie begins to heal and learns to hope. Colin's no saint, though, and his criminal past draws danger of its own. Allie must fight to protect her child and the man she loves, hoping her newfound power will be enough to save them all.
And be sure to visit the other stops on the hop:

');